Save the Bunny. Save the Blog.

GoBloMeMoFo 2007!
The lazy blogger's response to
NaBloPoMo.
************
Do the right thing. Guest post here during the month of November.
No way in hell I can NaBloPoMo by myself. But together, we can...


Save the Bunny. Save the Blog.

*********
2008 update: NaBloPoMo is held every year in November and is National Blog Posting Month. The idea is that you post every day for the entire month. Rather than even try to do that, I invited bloggers to guest post here at Velveteen Mind during the month of November. It let me off the NaBloPoMo hook and helped everyone find a new audience or just blow off steam that they can't usually release on their own blog.
Will I do it again in 2008? Check back and see.
*********
Brief recap of the full guidelines (ha. "guidelines" is tongue-in-cheek, I promise):
Any blogger.
Any content.
Any length.
Any time in November.

Take as many non-PETA-friendly buttons as you want from the button page! You'll have a spot on this official GoBloMeMoFo page as well as cross-posts of your post on my NaBloPoMo profile.
Leave a comment or email me if you want to play.


Come one, come all! Save the bunny!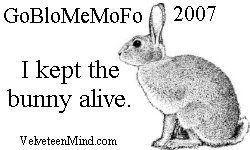 ************





***The Participants:***

























************


*"GoBloMeMoFo" coined by Jennifer at Playgroups Are No Place for Children. She is much funnier than I am. Thanks, Jennifer!

**Wicked awesome buttons courtesy of Mrs. Fussypants.

***Who here got the reference to NBC's show, Heroes? "Save the cheerleader. Save the world." Anyone?

****Finally, this may be cheating, but I don't want to win any of the prizes. I just want to play!****