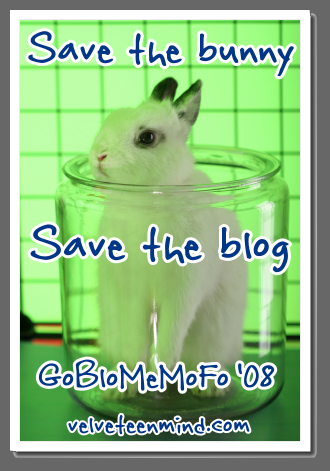 Guest Post or the Bunny Dies.
The lazy blogger's answer to NaBloPoMo...
Do the right thing. Guest post on Velveteen Mind during the month of November.
This is the second year of GoBloMeMoFo, the first year having been a raging success for both Velveteen Mind and the bloggers that guest posted in order to save the bunny. Time to save the blog again!
What is GoBloMeMoFo? It's the lazy blogger's answer to NaBloPoMo, short for National Blog Posting Month, in which bloggers post every day for the month of November. Yeah, um...
I'll still be posting as usual this month, but no way in hell I can NaBloPoMo by myself. Together, we can...
Save the Bunny. Save the Blog.
Brief recap of the original full guidelines (ha. "guidelines" is tongue-in-cheek, I promise):
Any writer.
Any content.
Any length.
Any time in November.
And this year? A special treat...
Prizes!
Prizes for the commenters, that is.
To be eligible to win a GoBloMeMoFo rabbit treat, all you have to do is leave a comment on one of the GoBloMeMoFo guest posts (always noted with a bunny-in-peril badge).
You can enter as many times as you want by commenting on as many guest posts that interest you, though only one entry per post will count.
Earn extra entries by visiting the blogs of the guest bloggers and leaving a comment on their "Visit me at GoBloMeMoFo!" redirect posts, usually easy-to-spot by that poor bunny in a jar. Be sure to mention that you came from Velveteen Mind so I'll know who you are.
Poor thing. Just look at him. His eyes are pleading, "Seriously, you're going to guest post, right? Right? Oh, please, for the love of Bunny Buddha, please post!"
Some of the prizes so far...
~~~
Hey, how did Mrs. Fussypants make it onto the GoBloMeMoFo front page again this year? Well, she made these horrifically torturous bunny-in-peril buttons for us and donated some of her custom jewelry designs. She was, by the way, the evil mind behind "Save the bunny. Save the blog."
Want to contribute to the prizes and get some free advertising for your business this holiday season? email me a description of what you'd like to donate, a link to your business URL, and I'll add it to our main page!
Winners will be announced the beginning of December.
In the meantime, whether you are participating or not...
Take as many non-PETA-friendly buttons as you want from the button page!
Guest bloggers have a spot on the official GoBloMeMoFo 2008 page as well as mentions of your post on my NaBloPoMo profile (to be updated shortly).
Leave a comment or email me if you want to play. I've already received a hefty number of volunteers, but there is room for more because not everyone ends up submitting a post by the end of the month. I'll email all of the bunny-saving volunteers with "how-to" posting details.
***
*"GoBloMeMoFo" was coined by Jennifer at Playgroups Are No Place For Children. Respect.
***
Come one, come all! Save the bunny! Save the blog!
***The Participants***
...oooh, your guest post and blog here!...

New Here? Sign up for free delivery of new posts via email or feed reader.