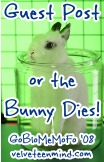 Guest post by Maternal Spark
Hi Velveteen Mind readers. My name is Heather and I blog over at Maternal Spark – a blog for and about creative moms. I have to admit I'm a little nervous showing up over here, with a new audience full of people I don't know. What do you expect from me anyway? I normally write about creative inspirations, roadblocks and projects but I don't know if you guys care about any of that so instead I'll go with the random weirdness that is me. I hope it helps you with your holiday shopping. That will make sense, just stay with me people.
I am the one on my family's shopping list that everyone groans over because they don't know what to buy me. They ask "Hey Heather, what do you want for Christmas?" and I say, "I don't know, I don't need anything."
Case in point. I still have $200 in my wallet from my birthday. It was my 30th birthday. Nobody knew what to get me so I ended up with cash. I originally had $250 but I spent some on notebooks and a novel because I love buying books. Anyway, that money is still unspent in my wallet because I can't figure out what to buy. My birthday was in August.
Then today, we were driving home from some random errand (likely picking up some sort of baby paraphernalia) it was so minor I've already forgotten. But my point is, we drove past some garage sale signs and I flung open the door of the minivan and ninja rolled out of there – towards said garage sale. I gave some old lady who was eyeing up a collection of cut glass tableware the stink eye and she cowered in fear, moving out of my way.
I snapped up a pair of glass salt and pepper shakers that were topped with silver wrapped around pearlescent buttons. I thought I'd found my treasure for the day but then, I turned around.
There on the table, amongst the vintage doilies and an avocado green blender was the most amazing thing I'd ever seen (that week). A giant nut shaped, nut bowl with crackers and picks. Whoa! That baby was coming home with me, no doubt about it! Guess how much I paid, guess come on…….$2! Only TWO BUCKS!
That two dollar nut bowl gave me more joy than any $200 from-the-mal
l-purchase could ever provide.
No wonder nobody knows what to buy me. Poor suckers.
Anyway, my point here is to think about that person on your gift list who you never know what to buy for and go looking for their giant nut. It certainly isn't about how much money you spend…it's about the nut factor.
Well guys, it was fun playing in someone else's park today. If you enjoyed this post come on over to my sandbox to say hi. You can find me at Maternal Spark - it's where Creative Moms Shine!

New Here? Sign up for free delivery of new posts via email or feed reader.