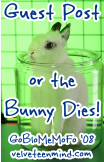 My name is SciFi Dad, and I write a little blog called Tales From The Dad Side. (Why do I suddenly feel like I'm standing up at an AA meeting?)
So here I am, guest posting. If tradition is to be followed, I'm supposed to make some quips about looking in the medicine cabinets or dresser drawers, but since a man rummaging through a woman's drawers is frowned upon in most states, I'll just stick to writing; that way, no one ends up in the back seat of a state trooper's car. (Although I was in a state trooper's recliner receiving inappropriate attention from his daughter once; but that is a story for another time, and definitely another blog.) I'm also supposed to tell you how awesome this blog is, and how amazing Megan is, and how I'd totally lie down in traffic for her or something. But a) you already know about the blog and Megan and b) I don't lie, so the whole traffic thing? Not going to happen. (Sorry Megan.)
Guest posting is an interesting thing: people may say they do it as a favour, and in all likelihood that is true. However, they also do it to direct traffic to their own blog. Anyone who tells you different is lying. If they were really trying to be altruistic, they would guest post anonymously with neither name nor link to attribute it back to themselves. So, if the goal is to drive traffic, what works best? I could be funny or sarcastic, and while I am those things at my own place, I would not say it happens often. Usually I'm more pensive, more self-involved more self aware.
Anyhow. I usually start my posts with a song; sort of a soundtrack for the post. So, let's get started, shall we?
One night I was sitting on the couch holding my (one month old) son, marveling at the newborn's ability to sleep in any place, in any position, and do so while appearing both peaceful and comfortable when my (three and a half year old) daughter climbed up beside me. After making the requisite attempt to stroke her brother's hair in an effort to see just how soft his soft spot was, she turned her attention to me.
"Daddy, why is your ear purple?"
"My ear is purple?"
"There's a purple dot in your ear."
"Where?"
"There," she said, touching a spot in my ear.
"Ohhh..."
In university I had a penchant for ear piercings ("never mess with the face", my good friend always said, "always the ears"). When I met my wife I had five earrings in one ear and one in the other. The singular one was a lobe piercing. On the other ear, three were in the lobe, one was in the helix, and one was in the upper part of the antihelix above the tragus (ref: Pinna (via Wikipedia) - bet you didn't expect an anatomy lesson when you started this post). Since then, I have removed all my earrings.
My daughter was interested in the antihelix piercing, probably because it is "inside" the ear and atypical. My wife smirked with that common "Let's see how you figure your way out of this one, smart guy," look.
I explained that the spot was actually a hole for an earring, and I pointed out all the piercing holes on my ears and told her that they were no different from the ones her mother has. My daughter was satisfied with my answer, and after a brief discussion about why I wouldn't be putting an earring into that hole to show her ("because Daddy doesn't want to"), we moved on to other topics.
(At this point I should probably tell you that I also have three tattoos, all of which my daughter has seen - those of you who click through to my blog will see one of them in the banner image. She actually liked to colour them in with bath paints at one time.)
But this conversation sparked an internal dialogue. Many people of our generation have gone the route of piercings or tattoos, and a lot of them are having kids now. I wonder how I will feel when my children ask about piercings or tattoos for themselves (note that I am not including the standard lobe ear piercing for my daughter; she will likely get her ears pierced when she is around 10 or so, at least that's what my wife and I agreed to the last time we discussed it). Of course, once they turn 18 they will be adults and therefore I will have no real say in the decision, but even then I wonder how I will feel.
My son is still so new that he has no scrapes or cuts or nicks or bruises. He is perfect, and the thought of him puncturing part of himself, or permanently inking his skin makes me sad. Even with her skinned knees and bruised arm, my daughter is perfect too, so I feel similarly about her getting these things.
Realistically though, it is their body. My wife and I provided it to them, but we do not own it. We may help them maintain it, but ultimately it is theirs to do with as they see fit.
I think the best thing I can do is discuss the process with them. If they decide to get a piercing or a tattoo, I can at least encourage (demand?) that they use a place with a disposable process (in other words, all needles or anything that comes in contact with blood is opened and disposed of in front of the customer). I can recommend avoiding places where drug use occurs, and favouring those where there is an air of professionalism and sanitary conditions. Oh, and "never mess with the face".
Our kids are not going to make the decisions we want them to make. To believe otherwise would be foolish. However, we can influence how they make those decisions. We can give them the tools they need to make the best decisions, not necessarily what we think is best or would like them to make, but what is best for themselves.
---
If you liked this post, you will probably like most of the stuff I write at my personal blog Tales From The Dad Side.

New Here? Sign up for free delivery of new posts via email or feed reader.