This post made possible by BMF as part of the #MyPledge15 social good campaign.
Ten years ago this year, I stood in the front yard of my parents' Gulf Coast home trying to identify the direction from which a ringing bell was sounding. That ringing bell meant hot food.
I walked to the street and waited, hesitantly and hopefully flagging down the white truck emblazoned with an iconic red cross as it approached our intersection. I felt awkward and unworthy as I approached the slowing vehicle. This was a middle class neighborhood, not a village struck by a tsunami. This was Hurricane Katrina. I should be able to just shake it off and bootstrap it. No electricity? Shake it off. Eating out of cans? Count yourself lucky.
Everything in me and around me seemed to suggest that my suffering wasn't good enough. It could be worse. Wind and waves reduced our home to a slab of concrete, all of our belongings washed out to the Gulf of Mexico, but we were alive and had a place to stay. I should just... be grateful.
But there's something about hot food and a smiling face. There's something about hot coffee and a hug. Yes, it could be worse but that didn't undo the damage. It didn't alleviate the gaping need.
The ringing bell of the American Red Cross symbolized something human I needed to feel that day and a forever pledge I have promised myself to keep for anyone suffering within my reach:
You are seen. Your pain is real. You are not alone. Help is here now.
#MyPledge15 is your ringing bell.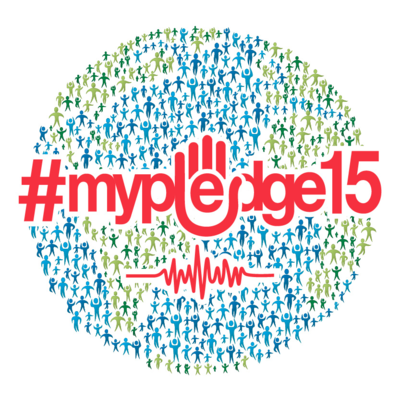 A social media initiative facilitated by Beuerman Miller Fitzgerald (BMF), guided by their slogan of "the strength to shout; the wisdom to whisper," and designed to shine a light on how a simple action can move us to do good, the goal of #MyPledge15 is to reinforce what we know to be true: A small pledge can have a major impact.
We just have to answer the call.
This isn't about any one cause. It's very much about what matters to you. #MyPledge15 is an invitation to publicly share a promise to take a small action in 2015 to support a cause or goal that matters to you. It's about small efforts making a difference.
How do you make your own pledge?
We ask that you publicly make your pledge using the hashtag #MyPledge15 on social media platforms like twitter, Facebook, your blog, Pinterest, and Instagram. Wherever you live online. In turn, we pledge to amplify your efforts by keeping the conversation going. Social media is more than a wall of sound: Real action is driven by digital conversations.
What does a pledge look like?
#MyPledge15 is to donate a box of books to my local library [@libraryname].
•
I pledge to write about [@yourcause] and make a difference in 2015. Click http://bit.ly/mypledge15 and make your own pledge! #MyPledge15
•
I pledge to volunteer 3 hours at my grandma's nursing home [@nursinghome] this year. Their team is a blessing. #MyPledge15
•
#MyPledge15 is to RT 10 tweets from [@yourcause] this year and spread their good work. Find out more at http://bit.ly/mypledge15
My personal pledge:
#MyPledge15 is to support the American Red Cross through at least 3 financial contributions + amplification of their calls for support.
In 2005, in the wake of Hurricane Katrina, the American Red Cross became a supporter of my family.
Driving the streets of Gulf Coast neighborhoods, sounding their bell to call sheltering families outside, they offered hot food, warm humanity, and financial assistance for people in need. They knew that not everyone could come to them so they came to us.
On this tenth anniversary of Hurricane Katrina, I pledge my 2015 to them. I pledge my vocal support as well as my financial support.
My pledge to you:
Moreover, I pledge to support the causes of my readers, my friends. That's you.
Make your pledge on your social platform(s) of choice using #MyPledge15 and leave a link in the comments below to your post or status update(s). Throughout the year, I will follow along with the progress of your pledge via #MyPledge15 and share a variety of them on my own platforms, either via retweets or FB shares or sharing them in my own words and highlighting your efforts.
On December 1, 2015, I will randomly select one pledge recorded in the comments below and donate $100 to the cause of your choice. The winning pledger will receive notification via email so be sure to register your comment with an email address.
Every pledge matters. No effort is too small.
What is your cause? How do you identify what matters to you?
So many people I meet tell me that they wish they had a cause to champion. Your pledge need not emanate from pain; your pledge can emanate from joy. Your cause can be linked to something that has happened to you or someone you care about. It can be a time when you received an unexpected kindness. Repay the source or pay it forward.
What is most important to you? Is it family? Pledge to donate food to a local food bank or share four calls to action from a family-focused charity's Facebook page.
Already support a cause? Perfect. My support of the American Red Cross is not new. Contribute to the #MyPledge15 conversation with your pledge of continued support, model how to take action, and get what matters to you in front of a new audience.
Push your energy out. Amplify your heart's desire by sharing it.
Share this post. Share #MyPledge15. Share your pledge.
Know someone who is passionate about a cause? Share this post with them. Tag them with #MyPledge15 when you see a pledge that moves you. Point them to My Pledge 15 for more information and encourage those you love to keep the conversation going.
Sharing what is important to you opens the door for us to learn more about what moves you and possibly more about what moves us. Sharing what is important to you might help someone else recognize what matters to them.
Your pledge is worth a pause. Your cause is worth a pledge.
Now you have a choice. You can click away to Pinterest or random scrolling on Facebook or you can pause and take an action. Ask yourself "What is my pledge?" Then just make it. It doesn't have to be perfect. It's perfect because it's yours.
What resonates with you? #MyPledge15 is ringing the bell. Come out and join us.
• • •
Thank you to BMF for inviting me to take part in the #MyPledge15 campaign. A New Orleans public relations agency with a compelling philanthropic history (check out their work with Brad Pitt's Make It Right Foundation), they recognize the powerful impact social good has had on their community over the last decade. New Orleans is a community the world calls home and BMF wants to return the good juju.
Learn more about the campaign by visiting My Pledge 15 and check out other pledges in action.
Not yet ready to make your own pledge? Retweet or pin the below social shares and help spread the word!
How can a small pledge make a major impact? #MyPledge15 Click now to use social media for social good for YOUR cause: http://t.co/rHiiemb9ei

— Megan Jordan (@VelveteenMind) March 23, 2015

Sign up for my infrequent but lovely newsletter for updates