Guest post from Janet at From the Planet of Janet:
Yo, bunny lovers everywhere.
I am your hostess for the day. Let me just say up front that I'm a guest posting whore. I'll guest post anywhere, any time, for anyone. Given the opportunity to write ANYWHERE but my own blog ... I'm there!
So today ... I am here to save the bunny from NaBloPoMoFo-dee-oh-doh anihalation anhialation anialation a fate worse than death.
Yeah, so now that I have your attention, let's talk, yeah?
I want to talk about thongs.
No, silly people, not those things that my 13-year-old daughter, the Roo-girl, wants to wear under her way-too-tight skinny jeans to avoid panty lines.
What we called thongs back in my day (when dinosaurs roamed the earth) are these:
Yes, I know. We now call them flip flops. And they are, of course, everywhere.
I remember some of my friends called them zorries "back in the day," but in my house, they were thongs. Just thongs.
So in addition to guest-blog whore, my other name is Eeeeevil Mother. I totally LOVE making the Roo-girl cringe.
And I can so do this by telling her how many different colors my childhood thongs were.
And how they actually were made of RUBBER.
And how I wore my thongs IN PUBLIC. Where people could actually see them. And they looked!
And how I sometimes kicked OFF my thongs.
And how I never wore my thongs in the house, but always when I went to the beach.
And how, when I went to camp, I wore my thongs to walk to the showers.
And how my thongs were soooo comfy that I wore them for days at a time!
This makes her a nut ball.
But I do love me some thongs flip flops. I love them because I can show off my pedicure: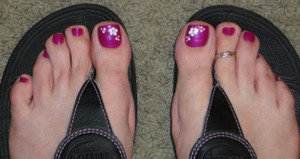 Now that the weather is getting colder, though, you might think my thongs are inadequate for keeping warm.
Ah, but no:
My daughter says I'm a geek.
I just think I like my thongs. No butts about it.
Stop by and visit my planet. The weather's fine. Perfect for wearing thongs.