Jack Stinkyfeet. That's the name our kids gave our Elf On The Shelf two years ago, when the boys were five and three.
I wanted something ironic. I remember recommending something like "Jose Heffernan." Something, you know, believable for when the kids got older and grew skeptical of the legend.
If you aren't familiar with it, an Elf On The Shelf is a boxed set that includes a story book (sharing the background myth) and a very retro little dude doll with flexible arms and legs, a soft body, and a head straight from the 1950's.
Your Elf is one of Santa's elves and arrives some time before Christmas. For us, he comes the morning after we set up our Christmas tree, just as we are in the highest of spirits. His job is to observe the kids in your cozy home during the day, then fly off to Santa at night and report on all naughty and nice behavior.
You are not allowed to touch your Elf or he'll lose his magic.
Every morning, when you wake up, your Elf will be poised for sly viewing in a new location. Finding our Jack Stinkyfeet is the very first thing our kids do when they wake up in the morning (you better believe it's a contest) and absolutely begins every day before Christmas on a high, hopeful note.
Wonder what Jack told Santa about us last night… Did you hear him come in this morning?… Ooh, that is a really good spot to see everything today…
Jack is the one that takes our wish list letters to Santa. He all kinds of rocks. You can pick up your very own Elf On the Shelf in Hallmark stores, in fact. Seriously, do it. I knew about him for years before I bought one and I'm endlessly glad that I did. When you are in the store grabbing cards and ornaments, grab him. Make sure you don't let your kids touch him or ideally even see him coming out of the box.
Magic, people. Magic, I'm telling you. Every day after Thanksgiving and leading up to Christmas is filled with magic in our house. Every morning starts with marveling at Jack Stinkyfeet's magic and is sustained with wonder at Santa's.
We are mindful of being good and doing good deeds. It's not enough for Jack to just report that we didn't fight. It's much better for him to have extra special acts of kindness to report.
Christmas morning is always resplendent. Since Santa and his elves make all of the toys in their workshop, nothing is wrapped but rather displayed as though we stumbled in just as the elves were in mid-play. You know they just couldn't help themselves. Action figures are poised to strike or soar. Dolls are in mid-party. Every item glimmers under the lights of the tree as though it were moving only moments before.
Our holidays are wondrous. We don't need a lot of holiday survival tips. We survive for the holidays. We don't take a moment for granted. We revel in being together. Our holidays are wrapped in magic, glittering and warm. We believe in every moment.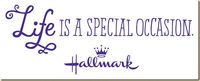 With my most sincere appreciation and gratitude, thank you for joining me to celebrate Hallmark's Life Is A Special Occasion campaign these last six months. Thank you to Hallmark for sponsoring Velveteen Mind with such generous storytelling challenges. I hope you have enjoyed it as much as I have. I know these have been my family's favorite posts, so far.
Why did I choose to partner with Hallmark? I grew up in a small, rural town and the nearest store I was allowed to walk to alone was a Hallmark. Between ages 8-10, I spent hours there, reading cards, playing with fancy pens, and learning. It was at a Hallmark store that I learned how to express gratitude, how to meet adversity with sympathy and sometimes humor, and how to extend the hand of friendship for no reason other than just because I'm thinking of you.
Maybe I'll tell you more of that story sometime. For now, know that Hallmark helped shape the writer I am today. Do you want to partner with brands as a blogger? Find partnerships that resonate. Find partnerships that allow you to tell your story and that seamlessly integrate into that story naturally.
Be sure to visit Hallmark during the holidays, even if just to wander around a bit; sign up for their newsletter for special offers and discounts just in time for magical surprises of your own!
Click through now and they'll know I sent you.

Don't miss an update! Free delivery of new posts via email (recommended) or feed reader.

Follow me on Twitter! |

Like Velveteen Mind on Facebook |

Subscribe to Velveteen Mind on

or