How did I not notice that the kids are off an entire week for Thanksgiving vacation? How did I not notice this until last Friday?!
We were packing backpacks, on our way out the door for school Friday morning, when I double checked Grey's homework folder and noticed that "THANKSGIVING BREAK" stretched out across every single block of Thanksgiving week. I hollered for the boys and demanded to know if they knew about this extended vacation business. Their perplexed faces revealed that they both didn't know about the break and couldn't fathom why their mother appeared to be either furious or elated.
Keeping everyone on their toes, that's my expertise. 
I was elated. I was just short of dancing. On me, those two things must look just short of crazy, which I just short of love. In the car, on the way to school, I caught Grey privately smiling to himself as he looked out the window. Pressing him, he said, "I love to see you this excited. You are really happy."
I adore Thanksgiving. I am heart-bursting happy at the chance to spend so much time with the kids. The fact that I hadn't noticed we were off for a long break is a testament to how busy I've been. I look forward to Thanksgiving as possibly my favorite holiday. All the family and joy without all the stress and hubbub of gifts. Adore.
My own little family's personal traditions start the day after Thanksgiving. Come rain or shine, we bundle up the kids and hit a Christmas tree lot. That night, we are hearts afire.
Our first Christmas season in this house, when Quinn was a toddler and Grey was tiny, we bought a live tree on a whim during an absolute thunderstorm. With not a single ornament to our name, so recently after Hurricane Katrina, we ran into a Wal-Mart and bought whatever was in front of us. 
Soaking wet, chilled to the bone, we were insanely happy. We raced home, scooted into the house to dry off, and then made a choice that would set the tone of our holidays forever: We put on National Lampoon's Christmas Vacation.
We blared the opening song, danced around like goofballs with our baby boys, and sang, "It's that time! Christmas time is here! Everybody knows there's not a better time of year. Hear that sleigh! Santa's on his way! Hip hip hooray it's Christmas Vacation!"
Full of Thanksgiving gratitude and love, we barrel straight into the holiday spirit, armed with all things twinkling before December even finds her way through the lingering humidity.
And I hate decorating for holidays. So this amount of cheer is saying something. Thanksgiving has a special effect on me.
Clark: We're kicking off our fun old fashion family Christmas by heading out into the country in the old front-wheel drive sleigh to embrace the frosty majesty of the winter landscape and select that most important of Christmas symbols. 
Audrey: We're not coming all the way out here just to get one of those stupid ties with Santa Clauses on it are we? 
Clark: No, I have one of those at home. 
Thanksgiving hasn't changed much for me since becoming a mom. Even the National Lampoon angle. My parents live three minutes away and it's one of the holidays we celebrate with them; Christmas day falls to my in-laws. Miraculously, I have continued to sidestep the responsibility of contributing food, for the most part. Probably for the best for all involved. Though I do make and bring a mean deviled egg duo, of which everyone is subjected to many a tale of what it took to make this year and tell me again how much you love it!
I force everyone to talk about the deviled eggs so much... I may have just stumbled upon why they don't ask more of me.
We arrive at my parents' house early, ideally in time to watch the Macy's parade. My mom cooks enough to feed two dozen people, never having adjusted to our party dwindling down to just us once we moved down South and away from our extended family. The kitchen is crowded, everyone picking at this bit or that while simultaneously starving to death for how long everything is taking. Music plays throughout the house, fighting for attention over the sound of no fewer than three TVs on in the background, sneakily shifting from the parade to any number of Westerns. 
John Wayne is as much a part of my Thanksgiving as my brother. Thanks, Dad.
Three of the last seven Thanksgivings, I have been pregnant. Two of those babies were announced at Thanksgiving. So maybe I'm responsible for bringing deviled eggs and non-deviled children. That's plenty.
This year, our table will be full. In addition to my parents, my brother, and the five of us Jordans, we are blessed to have my aunt (who always gives me a Celebration Barbie keepsake ornament from Hallmark, this year marking the 12th in the series!), my cousins Lucas and Brandon, and Lucas's new baby and wife join us from up North. Finally, my mom's insistence to never stop cooking for a small army will pay off in more than leftovers.
Iris won't know what to do with herself around the new baby. All she talks about is babies. Plus, their baby is a girl, which means Iris will go into a love coma of excitement and longing.
I just can't wait. 
Gotta a ton of stuff to celebrate (jing-a-ling-a-ling-a-ling-ling)
Now it's getting closer I can't wait (jang-a-lang-a-lang-a-lang-lang)
Subscribers click through for video.
• • •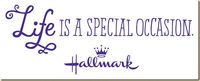 Hallmark is a sponsor of VelveteenMind.com through the end of 2011 as part of their Life Is a Special Occasion campaign.
Shake off your bah humbug and sign up for their newsletter. They'll know I sent you and I think that means one of the craggy bits in my heart will fill with a little more cheer.  Plus you'll get discounts and cheer of your own, just in time for the holidays. ;)
• • •

Don't miss an update! Free delivery of new posts via email (recommended) or feed reader.

Follow me on Twitter!  | 

  Like Velveteen Mind on Facebook  |  

Subscribe to Velveteen Mind on

or