A woman on the front porch of the Mockingbird Cafe in Bay St. Louis, Mississippi, hollered to her departing friend, "Tell your mama an' 'em I said 'Hey!'"
God, I love living on the Gulf Coast.
On the twenty minute drive east back to Gulfport, my habitual scanning of the water paid off:  a pod of dolphins swam yards from the shoreline.  I made a U-turn and parked my decade-old white Volvo wagon next to a large white van surrounded by a meandering oil spill clean-up crew.  I hardly glanced at the workers as I got out of the car, keeping my eyes trained on the dolphins.
The workers braced a little as I approached them, then relaxed as I strode right passed.
"Well, look at that," he said to no one in particular.  One of the workers followed my undivided gaze and found the pod.  Yes, look at that.  Four adult dolphins and what appeared to be a juvenile, swimming satisfyingly slowly within what felt like arm's reach of me and a small crew of men hired to remove all evidence of Man's assault on the Gulf of Mexico.
I straddled a surreal reality as I watched that enchanting pod of dolphins, ancient and pure, alongside men dressed in bright yellow hazard gear.   We stood together on the beach within one football field of where my home was reduced to a slab of concrete five years ago in Hurricane Katrina.

I stopped in my tracks as I returned to my car, realizing where I was.  I looked to my feet, knowing they and my entire body would have been under water in this spot that day.  Wondered if our photographs might have floated over this point of land.  Dreamed for a moment that if I dug deep enough, could I find a piece of me?
God, I love living on the Gulf Coast.  But Lordy, is it ever complicated.
You ask us why we stay.  Why we remain here when we know damn well that hurricane season will threaten our foundation every year.  The Gulf that we love so fiercely, that feeds our culture and economy, is the very thing that feeds the fury of storms and provides passage for dangers we never imagined.
The act of staying is an act of defiance, to be sure.
The act of staying is an act of love.  A passion of pride. 
The act of staying is an act of hope.
Hope Remains.
On this fifth anniversary of Hurricane Katrina, I am once again joining Tide Loads of Hope to celebrate the resilience and progress of the Gulf Coast.  This year, though, we're prepared to kick it up a notch:
Ya'll. Tide Loads of Hope is throwing a hurricane party with Faith Hill!
As the fifth anniversary of Hurricane Katrina nears, Tide will host a live concert on Tuesday, August 24, 2010 in New Orleans featuring Faith Hill. Tide Loads of Hope Presents: A Celebration of Hope with Faith Hill will serve to honor the resilient spirit of Gulf Coast residents and demonstrate Tide Loads of Hope's ongoing commitment to New Orleans.

The concert will be free for residents of New Orleans and the surrounding area to celebrate how far the community has come in its rebuilding efforts since Katrina.

Gulf Coast residents will have the chance to win free tickets to see Faith perform live on August 24th at the Mahalia Jackson Theater, an iconic New Orleans performing arts center, which was recently rebuilt after closing its doors following Hurricane Katrina. Tickets will be distributed through local radio stations in the New Orleans, Baton Rouge, LA; Biloxi, MS; Lafayette, LA; and Jackson, MS areas.
This, people, is how you celebrate a milestone.  Particularly the truly battered ones.  You throw a party.  You look disaster in the eye and then you offer it a wink and a drink.  While standing in a fountain and wearing your white shrimp boots.
Or perhaps while dancing down the middle of a city street, waving your hankie and throwing beads to the poor souls on the sidewalk…  because did I mention that the Dirty Dozen Brass Band is opening for Faith?  Laissez les bon temps rouler!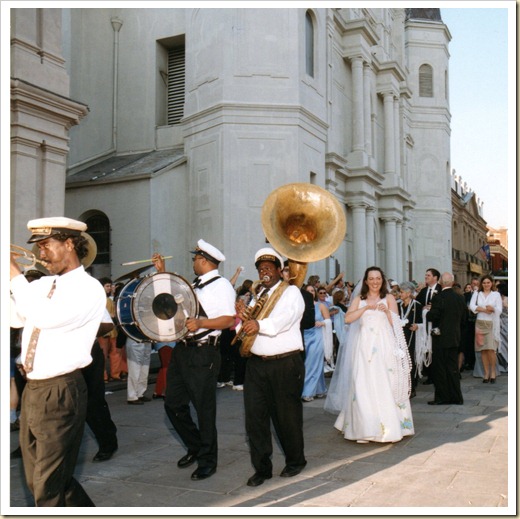 Are we gluttons for punishment?  I definitely think we have the "gluttons" part right.  Lavish love of culture is why we remain here on the coast.
And I'm willing to bet my beignets that lavish love of culture is why you harbor an inexplicable loyalty to your home, too.
Beginning Wednesday, Story Bleed Magazine will host Hope Remains, a blog carnival sponsored by Tide Loads of Hope, reaffirming persistent hope for and passionate loyalty to the Gulf Coast.  That big surprise I mentioned last month?  I rebranded Blog Nosh Magazine as Story Bleed and have honed our focus to one simple challenge:
Find yourself where stories blur the lines.
Where stories blur the lines between cultures, in point. 
Our story is your story.  The cause that fuels Tide Loads of Hope is one that bleeds north from New Orleans and encompasses your home as well as it does ours in the South.
No area of our nation is immune to disaster.
After tornado winds dissipate, hope remains.  After fire ash settles, hope remains.  After earthquake-ravaged ground stills, hope remains.
After flood waters subside, hope remains.
Tide Loads of Hope remains committed to answering your call when the simplest of human needs are threatened, wherever you are.
Join me as we celebrate resilience and bring hope to New Orleans with fellow Mississippi girl Faith Hill at the breathtaking Mahalia Jackson theater.  Follow me on twitter for updates from the event on Tuesday, August 24.
Live in the New Orleans area? You can win tickets to the Tide Loads of Hope Faith Hill concert by listening to the following local radio stations:
WNOE  -  (101.1  New Orleans)
WLMG – (101.9  New Orleans)
WYNK – (101.5  Baton Rouge)
WYPY – (100.7  Baton Rouge)
KRVE – (96.1  Baton Rouge)
WTQT-FM  (94.9  Baton Rouge)
KMDL – (97.3  Lafayette)
WJKK – (98.7  Jackson)
WUSJ –  (96.3  Jackson)
WZKX – (107.9  Biloxi)
Distinctly absent of sweet tea and crawfish boils? Join us at Story Bleed beginning Wednesday for the Hope Remains carnival and tell us what makes you dig in then kick up your heels out of love for your own culture.
Can you imagine what it would be like to lose not only your home, but also your community touchstones?  Imagine if your library disappeared, along with your grocery stores and hospitals and churches and parks and favorite restaurants?  Everything you call home.  How might you react?  What would you miss?  How would you respond?
Down here?  We dug in our heels, got our hands dirty, and remained.  And now we're ready to celebrate our progress.
Because through it all, hope remains.  And ya'll, so do we.
Tell your mama an' 'em I said, "Hey!"
***
About Tide Loads of Hope:
In the aftermath of Hurricane Katrina, Tide recognized that in times of disaster, people turn to the most basic human needs, like clean clothes.  Ironically, clean clothes aren't possible when you don't have power or access to safe water.
Within weeks of Katrina's landfall, Tide arrived in New Orleans with their Loads of Hope truck,  a unit housing 32 energy-efficient washers and dryers capable of completing 300 loads of laundry a day, and began meeting one of those needs of residents grasping at hope.  Relief workers, first responders, and individuals in areas affected are able to drop off their laundry to be washed, dried, and folded by the Tide Loads of Hope team, free of charge.
To date, Tide has washed over 36,000 loads of laundry for more than 27,000 families.
For more information about our sponsor Tide Loads of Hope or to purchase a Tide Loads of Hope vintage t-shirt, please visit www.tideloadsofhope.com.
The profits from the sale of the Tide Loads of Hope tees benefit families affected by disaster.

Interact with Tide Loads of Hope at www.facebook.com/Tide.  
Follow them on twitter @TideLoadsofHope
Related posts:
on Hurricane Katrina
on Tide Loads of Hope
from the Gulf Coast Disaster Series