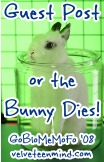 Guest post by Kate Anonymous from Kate Uncensored
Let's talk secrets.  Many of my readers have remarked how lucky I am to be able to blog about whatever I want, anonymously.  There is a freedom I have that many do not, I realize this.
When I started blogging in 2003, I had a personal blog that only friends and family had the address for.  That lasted oh, about 4 weeks.  I felt stifled, as what I mostly wanted to blog about was, shocking, my friends and family.  I wanted an outlet to think out loud, or in print as the case may be.
A few months later, I started blogging again.  I was going through infertility treatment and had found a community of women and men who knew exactly what I was going through.  Soon after reading them, I realized I could go from journaling in a book on to the web. 
So I poured my heart out.  My blog was a daily journal of going through testing, treatment, loss.  My readers followed me through a roller coaster of trying drugs, going to the ER (from which I posted) DNA and genetic testing.  They supported me when I found out my husband was sterile and when I discovered he was physically unable to produce an erection.  When I had less than a week to get together money for a state grant cycle, they loaned and gave me money.  They rallied around me while I started the IVF process, and as I waited to find out whether or not it had been successful. 
When I broke the news of my cancer on my blog - I was truly touched by those who sent notes, flowers, news articles.  I told them before I ever told my husband or my family and friends, because I knew I had to start telling sometime, and I felt telling might be easier if I practiced first in writing.
These people knew secrets we had kept from our friends and family - even though my name was attached to the blog.  During chemo, I took it down.  I no longer felt I belonged there, because most of the people who read me, and those I read in return had "graduated" and become parents.
Soon after that, I started it back up, sporadically posting.  This time, blogging in a new location and without my name or photo attached.  No one would find me this way, I hoped and guessed.  I started exploring things I dared not expose to people I knew.  I had secrets that would break hearts, wreck homes, disappoint and dishonor. 
After relocating, I found myself posting more often.  It was a sort of therapy, being able to share the things I had to share.  I found myself curious about the local bloggers and began reading and commenting, opening myself up to a community once again.  I gained more of an audience, for those who read before that rarely spoke up.  That was the motivation I had to continue.  I moved older posts, to give some background and continued to divulge the kind of information others might be unable to. 
Think of sharing the things you hold back once in a while, you'll be surprised how encouraging those around you will be.  The people who've read me both before, and recently, are so significant to me.  Some comment and some choose to lurk, staying anonymous themselves.  Some have reached out to email me when they thought they had something to say that I needed to hear.  Some of them have become close friends, though we're separated by tens or hundreds or thousands of miles.  Some have become confidantes, and have shared their own secrets with me.  One became more. 
I go out of my way to keep some information about myself private, but I reveal my innermost thoughts and hopes, desires and fears.  Of course, there are still things I don't share.  Secrets that are mine to keep, secrets that are only mine to share.  But it's nice to know I have the option.
Curious?  You can read it here

New Here? Sign up for free delivery of new posts via email or feed reader.