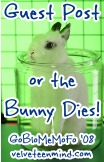 Guest Hoster, not Poster here. 

It's Linda @ Short Pump Preppy. 
***
***
***
***
We play a little game on my blog called Match Game Monday...I thought we'd play it here today for fun ...oh, that's me next to Richard.
Why yes, I know you're digging Gene's microphone...me too!
(editor's note--  click on the movie now because the music makes it so much better!  feed readers, you are missing out so click through to the site!)
You fill in the blank...no one has to match.  We just have fun.  And since it's Megan's blog, of course the fun is at her expense...m'kay?   Oh and you might want to cue the music now.
Give me your best answer to this:
That Megan from Velveteen Mind is seriously losing HER mind.  She even uses a 'Guest Poster' when she B*L*A*N*K*S !
~~~

Linda is a SAHM of 3 teens, handing out cupcakes and latte daily at Short Pump Preppy. 

New Here? Sign up for free delivery of new posts via email or feed reader.