"If you started your blog to write about your everyday life and now your blog has infiltrated your everyday life, how do you account for that in your writing?"
This question was posed recently in the blogging community by a tenacious new blogger, trying to find her foothold in parenting blogger circles.
This is actually an amalgam of questions posed by a variety of upstart up-and-coming bloggers (oops, a reader pointed out that "upstart" can also mean arrogant, sorry there), all openly researching the top blogs in their chosen genre, trying to pin down what defines their success.
In doing their research, these new bloggers began to notice not only what defines the success of the old guard, but also what signals the beginning of their decline: the introduction of self-awareness. Specifically, the self-consciousness of being observed.
One of my very first blog posts was Shrouded Audience Revealed. Through years of keeping journals, I became aware that even though my journals or diaries were entirely private, books stashed away for none to find, I was never able to write as openly as I wanted. On some level, I always expected my entries to eventually be read by someone other than me. The hackneyed Emily Dickinson.
Blogging removed the shroud from that imagined audience. And it changed the way I write. For better or worse.
We all try to deny this self-awareness in our writing, but it is there. We consider our audience now. Even if just a tiny little bit. Perhaps in a moment of hesitation before we hit publish on a controversial topic. An occasional second thought.
I had one of those second thoughts this morning. I sat down to write a post to share the news that I would be attending and speaking at BlissDom in Nashville on October 18. But then I thought:
"This isn't 'news.' It's just information. And who the hell cares, anyway? Am I suggesting that there is someone out there that might decide to go to BlissDom because Mrs. Fancypants here is going to be hogging the mic?"
Yeah. Exactly. Drivel.
The true point is that I'm excited about 1) being invited to speak at all and 2) having one-on-one time in a small group of people that I either haven't yet met or didn't have enough time with at BlogHer. I can't wait and genuinely hope that you'll be able to make it, not to hear me, but just to visit. Bliss.
This brings me back to that original question: How can we claim that we are the same, writing about our everyday mundane, when blogging has changed our lives or at least has the potential to do so? For instance, I am traveling over 8 hours one-way in order to not only meet other bloggers (a subculture I once considered marginal and geeky but now see as increasingly mainstream and ingenious), but to speak to them. And they might even want to hear what I have to say. About blogging.
And part of this engagement involves writing about it.
The paradox:
Blogging can be like any other job. Of course it infiltrates your life, just as your job should. But when your "job" is to write about how your life is like everyone else's, and then that job changes your life, where does that leave you?
The following is best read as one giant run-on sentence, for full effect...
When your everyday activities now include much that revolves around blogging, does writing about it become circular? You are now blogging about blogging, because blogging is very much a part of your everyday activities? But people began reading your blog to read about your everyday life, when it had nothing to do with blogging other than the fact that you were actually writing it down and sharing it within the platform of a blog... Will they still want to read about your everyday life when your everyday life includes writing about your everyday life?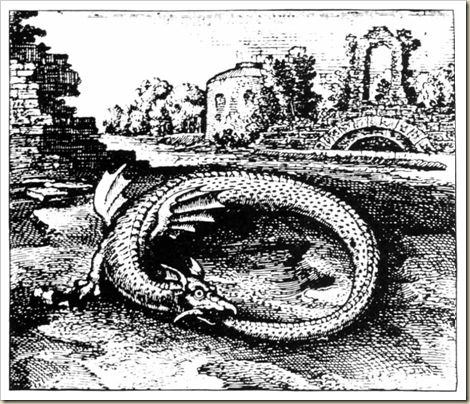 Now pick up the pieces of your head that just exploded and get back to me.
~~~
But do get back to me before the 18th of October, because I'll be speaking at BlissDom in Nashville about blogging about my everyday life, which I insist you will see yourself in, and which now includes traveling cross-country to talk about blogging. Because that's normal everyday life, right? Right. Help me out here. Come talk me down from the ledge.
~~~
*The "serpent eating its tail" images are referred to as the Ouroboros, symbolic of both infinity and, for our purposes, the circular argument.

New Here? Sign up for free delivery of new posts via feed reader or email.