Ooh, where ever did you come up with such a cute idea for Easter cupcakes, Megan?
***
Why, from my Blooming Marvelous ditto sister, Annie!
I have a feeling they don't look anything like what Annie had described, but my family utterly adored them. A new Easter staple, I am quite confident.
Thank you to everyone who sent in Easter cupcake recipes, however, I probably should have mentioned that anything requiring more than, say, three ingredients and four steps is too much for this Domestic Dumb Bunny. This is why Annie's recipe was spectacular: 3 ingredients and 4 steps! She is a genius and she knows me very well.
Now, on with the rest of our quick illustrated guide to my family's Easter...
Goose says, "What? You got a problem with my egg dipping by hand?"
Megan thinking, "Wowza! My kid is the next Jackson Pollock!"
***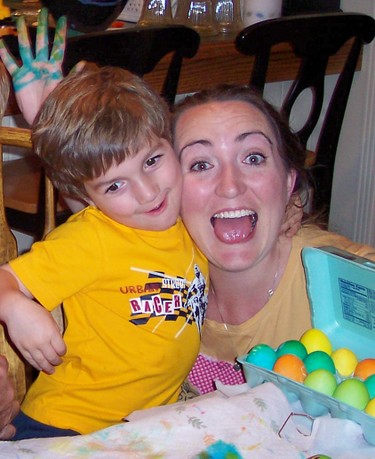 Pants doesn't do normal poses. Crazy only, thank you.
And notice not a drop of egg dye on those 3 year old fingers.
I live the perfect illustration of the Birth Order Theory.
***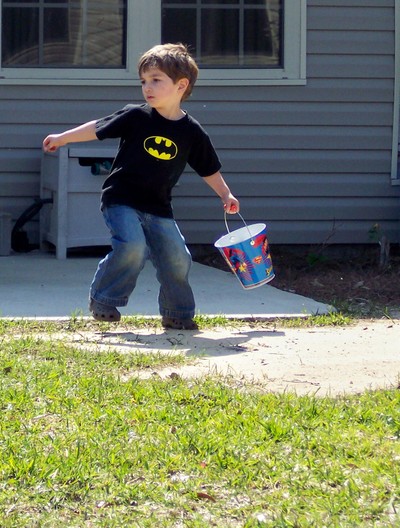 Holy Hidden Eggs, Batman!
Pants takes Easter egg hunting seriously.
***
Hey! There ain't no candy in this egg! What am I supposed to do with this?
Goose takes Easter egg hunting for the crock it really is.
***
Finally, a glimpse into our family on Easter night, on the jagged edge of the sugar high comedown:
Listen closely and you can hear my dad say, "You wanna see mine-- I'm gonna crazy myself into the bar and watch some Westerns." Classic. And, yes, my folks have a full bar in their house. Welcome to a Mississippi Easter.
Hope you had a happy Easter, ya'll!
New Here? Subscribe to Velveteen Mind or have it delivered via email.