After accusing Sara at Suburban Oblivion of hijacking my post this morning, I figured I'd better knock this one out before I head to bed in a minute. For those of you that read my virtual b*tch slap in Sara's comments, I really was kidding because I knew she was going to post before me. In fact, she started writing her post as I was still telling her about my theories. Yeah, she's just that serious. Crazy mad blogging skills, while I'm still prattling away on IM. For those of you that haven't read Suburban Oblivion today, here's the story.
Heather at TopBlogMag emailed her writers asking for us to participate in a little contest called Blogging to Fame. In short, it's a most-votes-wins popularity contest in which the blogs and bloggers with the most votes win cash prizes. I'd love to go into more detail, but, well, the details are sort of sketchy. To say the least.
Heather was nice enough to offer to share the prize money if TopBlogMag should win, and since I'm all for free money, I logged onto the site, even registered, and started poking around to find out more about it.
The first thing that struck me was all of the typos and grammar mistakes. (Suburban Oblivion readers, these red flags are going to seem familiar to you because they are the same ones I told Sara about and which she totally stole! Damn you, Saraaaaaa! Picture me waving my fist in the air in futility.) English seemed to be the author's third language, at best. There was a distinct absence of the article "the" all over the damn place. Now, I don't have any problem with poorly translated blogs, but, seriously, if you want me to believe that you are going to give away tens of thousands of dollars in cash and prizes, please use words like "the" and "a" every now and then.
The time frame of when the contest starts and ends was vague at best.
Where the money is coming from was, well, uh, it seemed to be a secret. The origin blog stated that they would prefer not to reveal the sponsors right now but to rest assured that it was going to be "big." Hmmmm. Okay. Fine.
Based on all that, I decided to not participate, despite wanting to throw some votes TopBlogMag's way. Then this morning we got another email from Heather about it. Knowing that Sara would have gotten the same email, I IM'd her and asked what she thought of the whole thing.
Since she's not a "whoring out your blog for votes" kind of girl, she hadn't even looked at the site, yet. In fact, it took some hounding on my part and a distinctly funny "I'm having a hard time working up a giveadamn" on Sara's before I could even get her to look at the site.
Then I had her hooked and started turning her mind all skeptical-like. We were all Mulder and Scully: The truth is out there... and we were going to find it.
If you want to check out some more red flags that Sara and I unearthed, check out her post Blogging to Fame? Not likely. Otherwise, here are my theories:
This is a legitmate contest that's just not fully formed yet and from which I will never see a penny.
This is a half-assed contest that is not fully formed, never will be fully formed, and will just taper off with some lame excuses for why it didn't work. Probably blaming us for not contributing enough in the end.
This is a social experiment to see how far our vanity and narcissism will take us. Just what will we do when promised fame and fortune? How much will we whore ourselves out?
This is a phishing scheme. I did register, after all, and for all I know they are hacking into my accounts right now. One of the questions was actually "name to make the check out to in case you win," as though this might be the last time they hear from you, despite the whole requirement that you fly out to their awards ceremony, etc. etc.
Suburban Oblivion says this is all a link-baiting scheme. I didn't know what link baiting was, but she explains it very well. I imagine this could be both link-baiting and legitimate, but, whatever.
On the off-chance that this is a legitimate contest, by all means, head on over to TopBlogMag and click Heather's links and vote! I don't intend to nominate myself at this point, but who knows, I may come to my senses...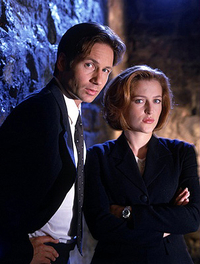 Speaking of coming to my senses, I've gotta say again that I'm glad Sara posted her totally-stolen-content post first (wink, Sara). The reason? Had I not read hers before I wrote mine, I would have absentmindedly linked to the Blogging to Fame website. Yep, I would have fallen into the link-baiting trap set somewhere in the remote regions of India, waiting for naive little bloggers like me to stumble right on in and snap! She's a great Scully to my Mulder, in that case. Or is she Mulder? Whatever. David Duchovny is incredibly attractive to me and absolutely cracks me up in Return to Me
, so any reason to post pictures of him. Le sigh.
Or, again, this could be totally legitimate. This contest could be the real thing. Or, I should say, "Contest on Internet could be real thing." What do you think?
***Check out Sara's post for Tuesday morning, Small Update on Blog to Fame, for a comment she received from the blogger behind Blogging to Fame and apparently one of her supporters. It makes as much sense as, you guessed it, the contest itself. It's definitely worth reading, though. I gotta say it again... I want to believe, but...