Late Saturday night, San Diego wind blowing through my open door, I took this photograph on my hotel room bed, shared it with my twitter followers, knowing exactly who I am and what a velveteen mind I have. Through doubt, I find my core. Reveling in the threadbare brings me there.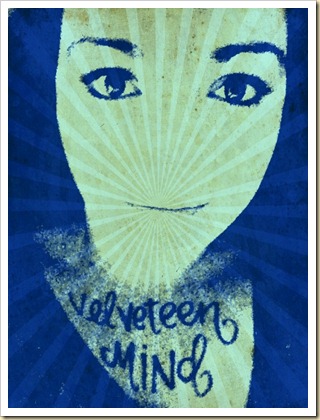 Thursday night, I co-hosted a party for more than a thousand women, at a conference hosting thousands. Hosting a party of this size, at a conference of such prominence, is a feat and an honor. Many people attempt to walk in our path and many choose to do it only once. You would think that hosting a prominent event might bring prominence itself, but that is not necessarily the case. If you do not utterly adore the reasons why you open the door to so many, you will abhor doing it again.
I adore the reasons we open the door to so many. This was the fifth year we have done so. Adore.
My reasons have very little to do with me. Good thing, too. I walked the tables of The People's Party, determined to alter my course of mastering gregarious introversion, and welcomed unsuspecting guests to the party, thanked them for coming. Met with blank looks, absolute lack of any spark of recognition, I introduced myself as one of the co-hosts of the very party we were reveling in, complete with a wave of bravado and a nod toward the crowded room. I smiled. They nodded. They said, "Oh!"
Open the door to as many as you can.
Don't expect them to recognize you, just hope they recognize the warmth of your welcome.
Don't expect them to remember you, just hope they remember they were welcome here.
I know who I am. You don't need to if you don't need to.
Friday was a manic day of sessions and meetings, brief encounters and shy approaches. Mastering gregarious introversion, that is me. I don't expect you to recognize me but hold on to your tights if I recognize you.
Friday night, I committed to extroversion. I was all in. I soaked in words at Listen To Your Mother and gave off thriving, sweaty energy at Sparklecorn. Surrounded by my people, relieved of any responsibility for success or whimper, I let it go.
I walked in with ten drink tickets, I walked out with one. I did not share. I do not squeal when I meet people I admire, but I may have fawned when I met a few that night. I remember lots of flashbulbs. Let's hope the party's photographer edits gently. Let's hope the recipients of my fawning remember kindly. I would take patiently.
Saturday came in with a snicker. A solemn shake of the head. I answered, "Yes, yes, I know, but it had to be done."
Whirlwind goodbyes to early escapees. Hints of the forlorn played on my lips.
Saturday night, we played it blue at Aiming Low. Completely inappropriate phrases smeared on our bodies in Sharpie. Completely iconic statements marked on our chests.
Go all in. It's the only way to do it.
Everyone walked around with "You Are ________" stickers plastered across their chests, written by friends and admirers. Blank lines filled in with "remarkable" and "inspiring" and "hawt." I openly admired the gestures, doled them out myself, not so subtly hoping someone would fortheloveofGod slap a notice on me.
Two nights before, I walked boldly through the spotlight of my peers, forced as they were to notice. Two nights later, I was utterly invisible to such notice, couldn't even inspire a sticky note. Not one.
I know who I am. Even when you don't.
This is not about me. This is about reveling in the threadbare that is blogging. Yes, there are velveteen moments and we should relish them with our all. Yet it is the threadbare ones that draw us out. We all feel invisible sometimes, even if we have only moments ago stepped from the light.
We should all feel invisible sometimes. It helps us remember to see.
I hope I saw you this weekend. I hope I'll see you again soon. I hope I'll meet you soon.
Go to the next conference. Live it with manic passion. Be confident. Regardless. 
Relish the Velveteen. Revel in the Threadbare.
• • •
Photos edited by Alli Worthington, with absolutely no clue that I'd use them all.
A disgusting display of ego, but ya'll don't have your BlogHer photos up for me to steal, yet.
Sharpie tattoo by Robin Plemmons. Ask what she wrote on my arm.

Don't miss an update! Free delivery of new posts via email (recommended) or feed reader.

Follow me on Twitter!  | 
  Like Velveteen Mind on Facebook  |  

Subscribe to Velveteen Mind on

or