Laurie Berkner's song "Victor Vito" came on and I felt three seconds of pure happiness, and then I could not breathe. It was like the exhilaration of jumping into a wave, then realizing too late that it's too high and too deep. Before you know it, you are going under. It felt like that wave.
No. More like a storm surge.
Two years ago this month, I was still unpacking boxes. We had been moved in for a month already, but I had been taking my time unpacking all of the decorations because I wanted everything to be just right. Although we didn't plan to stay in this new beach apartment for long, it was going to be just the change of pace we needed while we looked for our new home. The home where we hoped to stay for years this time. In the meantime, let's have some fun in the sun!
Pants's room was done and it looked suitable for a Pottery Barn Kids catalog shoot, only for a really cool kid with some fantastically groovy stuff. After waiting over a year to bring in the ceramic giraffes inherited from my great-aunt (which I had admired since I was little), we had finally displayed them on the wall with the rest of his mish-mash of funky stuff and it couldn't have looked cooler. So eclectic. So pulled together. So him.
The living room was coming together and I was so excited that I would sometimes just lie on the couch at night after Pants was in bed, turn off all the lights except for a warm lamp or two, and look around at our home. Everything was coming together. Everything just fit here, even if it was only temporary.
I don't always tell people that the home we lost in Hurricane Katrina was an apartment we were renting. For some reason, they seem to sort of turn off when I tell them that. As though "oh, it was just a rental" means that it wasn't a home. That our stuff wasn't real.
Only the walls were rented. The home was ours.
We've lived in some really fun and interesting places since graduating from college. Our first apartment was a converted barn loft in Point Clear, Alabama, over horse stables, on a polo field. One night, one of the horses birthed a colt. It was here that I completed my Chulucanas pottery collection and received my third handmade quilt from my great-aunt.
Later, we moved into an old cottage in front of a plantation in downtown Mobile, Alabama. The front of the house was covered in ivy, which crept into the house through the window sills. In the morning, the sun would filter in through the windows at the front of the house and throw the most fascinating shadows across the walls. A perfect atmosphere for a cup of coffee and a slow good morning. The cupboards were filled with my grandmother's china. Franciscan Apple. The most delicate coffee cups, but sort of funky, too. The same china Brad Pitt and Gwyneth Paltrow used in Seven. We're sort of Brad and Gwyn, right?
When Maguire was accepted to law school in New Orleans, Louisiana, our next home was a sliver of an apartment in the French Quarter with our own private courtyard.
We downsized from our ten room cottage in Mobile to this two room palace, but we had all that we needed: good books, good coffee mugs, good pillows, and good shoes to wander the streets for hours on end or jog down St. Charles Avenue to catch the streetcar.
Then the baby bug started to bite. Along with some unwelcome termites. Next stop: Magazine Street. Right at the edge of the Garden District in Uptown New Orleans. Another shotgun, this one purple. We lived in the rear, behind a high-end shoe store called Magni Feet! What torture to walk passed those slingbacks and purses every day, mocking our student-loan-dependent status. It was here that the huge 6'x6' painting from my college roommate seemed most at home, with its own alcove and perfect lighting to highlight her artistic brilliance.
But Magazine Street wasn't suited for a pregnant belly late at night, let alone a baby on the way, so our final Cajun destination was Uptown, right next to Audubon Zoo and Audubon Park. Pants was born and we could load up the stroller, grab some lunch at Whole Foods, and picnic right outside of the giraffe paddock. All within blocks of our home.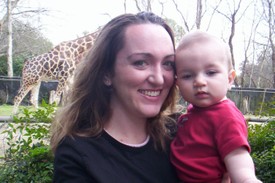 Here, we gathered a motley crew of stuffed animal friends to go with the zoo-themed room of Pants. We named every last one of them, before he was even born. Louise the duck. Kumquat the rhino. Larry the giraffe. Chartreuse the frog. Horton the elephant.
Then graduation. A job. A move back to the Mississippi Gulf Coast. Back home for me. But let's take our time finding the right home. I'm tired of moving. Let's move to the beach while we decide where to lay our roots. It will be fun. Long Beach, Mississippi, right on the Pass Christian line. Pants will love the water. Right outside our door.
It was here that I brought all of my pottery. It was here that I smoothed my great-aunt's quilts, all made by her hand, none having ever seen a sewing machine. It was here that I carefully placed my grandmother's china.
Along the walls, my treasured library of well-loved books, the perfect background for my friend's painting and my photography. I worked hard on those photos. Thousands of negatives painstakingly preserved in boxes in the closet, in case I built another darkroom and wanted another go at them. Another perspective in printing style. Digital photography was for pansies.
But I'm not the only one with talent. Maguire's guitars are in the bedroom.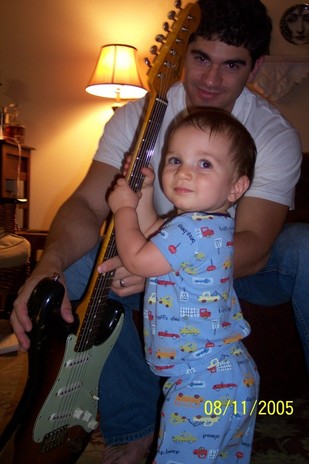 Did you know he sold his hard-earned Taylor 914C acoustic in order to buy my engagement ring? We bonded over Ani DiFranco and James Taylor.
All of Pants's animal friends are at home in his room. Such a room. Full of love and light.
Full of hope.
At the end of July, we are unpacked. I'm sitting at the computer, making a CD for Pants's first birthday party. His first word and current obsession is dogs. Maguire and I had found an electric guitar cake design before he was born and knew we had to save it for his first birthday. Mix it together and you got "Club Dog-Dog," our rock-n-roll birthday party theme, with dogs dressed like Elvis for decoration.
The first song on the "Club Dog-Dog" CD is "Hound Dog" by Elvis Presley. "Let's Get It Started" by the Black Eyed Peas is on MTV all the time and you love it. Must add that one, too. Mom here adds "Speed of Sound" by Coldplay. The fifth song is Laurie Berkner's "Victor Vito." Man, we watch that video on the Noggin website every day right now. You are learning to clap along.
Almost exactly one month later, we evacuate ahead of Hurricane Katrina. I put our photo albums on top of the couch because, hey, you never know how high the water could get in a hurricane. Maguire puts his Paul Reed Smith guitar on the bed. Because, really, the water could get that high.
Later, in the car on the way to Mobile, I wished I had put the photo albums on the kitchen island, just in case. I'd hate to lose our honeymoon pictures. I'd cry if I lost the entire album of photos of me pregnant with Pants. I always swore that I would take tons of pictures of me pregnant, unlike our own mothers. I was proud. I wanted you to know that when you got older. The cover photo is me in a red bikini at eight months on the beach.
It never occurred to me to bring one of my aunt's quilts. Maybe the one she made for our wedding. Or the one she made for my graduation, with the quilt block made by my grandmother, her sister. To grab my boxes of journals that I had been keeping since I was a pre-teen. To grab Larry. Or Horton. Or Kumquat.
Three days later, we see our home on the computer of my in-law's neighbor. It is a slab of concrete. Maguire made me walk him through it a million times before he would believe it was really our home. That bare slab.
It was just stuff. At least we weren't killed. It could have been worse. At least we have each other.
But I would love to hold Louise the duck again.
Last week, Maguire had a surprise for me. He found a copy of "Club Dog-Dog" that I had left at my parents' house after Pants's first birthday party. We put it in and listen to it on our way down to the beach to check out the new fishing pier. It's fun. It's a great party CD. I'm a good mom. A cool mom. Pants and Cheeks have great odds in their favor that they'll grow up to be cool.
The fifth song comes on. Oh my gosh, I haven't heard Laurie Berkner in so long! "Victor Vito
" was our favorite! Pants! Do you remember this song?
Then I remember. I remember what it felt like sitting there, making this CD for my baby boy that was about to turn one year old. I remember what it felt like. I remember the hope that filled my heart. The excitement for starting our new life. The thrill of things to come.
I remembered what it felt like to be full of such hope.
I'm lost under the water. This wave is worse than usual. It's too high. It's too deep. It's unexpected. This wave is worse than usual. This feels like a storm surge.
No one knew what was coming. How could we? What we did know was that you don't play with hurricanes, especially if you have a baby. You evacuate. You evacuate every time. Even if that means evacuating with all of your most prized possessions five times in two years. Even if it seems like this evacuation is a pain in the ass after loading up your car five times in a row and a couple of those times not even getting rain enough to warrant an umbrella. Even if you have other things to do. Even if you are in the middle of watching Good Will Hunting for the millionth time.

Just get in the car. Get out. Don't bother packing so much stuff this time. Nothing ever happens. Just take enough clothes for three days, grab your wedding album, one guitar, the cat and the baby, and go. It will all be fine.
It's just stuff.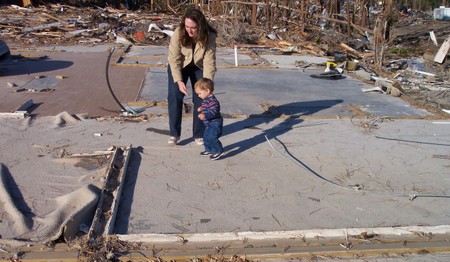 "Victor Vito and Freddie Vasco/ ate a burrito with Tabasco./ They put it on their rice./ They put it on their beans/ on their rutabagas/ and on their collard greens."

"Hey Victor!/ Hey Freddie!/ Let's eat some spaghetti!"

"Hey Victor, I'm ready to eat some spaghetti with Freddie."


New Here? Sign up for free delivery of new posts via email or feed reader.