Don't you just wish someone would post this ahead of you everywhere you went? Something to warn us that our glitter and drama and fierce feathers are meant for the stage and might find trouble when slipped into an unsuspecting crowd. Something to remind us not to break the illusion?
My glitter and drama and fierce feathers recognized the opportunity for trouble. I found I was more than up for it.
The Mississippi Coast Coliseum and Convention Center was barely open when I wandered in.
The morning was already heavy and hot outside, the grounds bustling with crews preparing for the Crawfish Festival that weekend. Salty breezes lumbered off of the Gulf of Mexico across the street, passed the sleeping Ferris Wheel and grumbling midway, making the glass doors of the coliseum perspire.
Pulling the doors open, it felt like the impressive domed structure was taking a nap. Shhh, let her sleep, she has a big night tonight. I meant to head straight to the ticket counter for an impromptu extra night's set of tickets (I realized the boys are finally old enough to appreciate the show) but paused when I saw the first promo. My mind was still on the dirty glitter of the carnival outside, the call of corndogs and cotton candy, the promised crunch of Lemon Shake-Ups with too much sugar, un-dissolved and screaming summer.
This giant was sleeping and in her cool depths lay another land, just beginning to stir.
Alegría. One of Cirque du Soleil's most magnificent touring productions, recently moved from the yellow and blue striped big top to arena formats. I have seen it seven times, mostly when it was housed here at MGM's Beau Rivage in Biloxi, though flying to Houston has not been out of the question.
Once I completed the additional ticket purchase that brought me to the coliseum, the coming weekend would hold my eighth and ninth times to watch Alegría. I've witnessed Cirque productions of Dralion, O, Saltimbanco, and Corteo, as well. Always spectacular seats, always captivating. The magic never fades for me.
Seeing the stage so naked, waiting, was something other.
Alegría. It's maddening, I know, it's just a show. But it taps into something gorgeous and I can not apologize.
With this in mind, I moved light-footed down to the side of her stage. I set my face in something of an expression that suggested, "I work here. Really. Can't you see how distracted I am by my phone? Which I am not, by the way, taking photos with?"
Now then, you see that second shot? That is what I caught in my peripheral vision. That? Is their prep area. Where the artists warm up, stretch, prepare to become more than they are.
How bold, I challenged myself, am I willing to be, then? I wanted to see that area. Despite the fact that I had no business anywhere near.
As it turned out, not that bold. A janitor's bucket and a couple of smooshed together tables proved effective deterrent to my criminal experiment.
Disappointed at the speed at which my stealth diminished, I dragged myself back to the public corridors to seek out that elusive ticket booth.
A geek in dark clothes and glasses pointedly did not make eye contact with me as I sloped toward the stairs. "Hey, do you know where the ticket counter is?" I called after his decidedly disinterested backside.
"Mmhmm, follow me." Still no eye contact. Fine. You didn't bust me while I was snooping, I will keep my need to be noticed equally low.
He strode ahead of me, head down, rounding a corner of the wide-bellied coliseum. As I noticed the light diminishing as quickly as my earlier-championed stealth, my geek in matte cotton lifted his keyboard-strong hand and parted a pair of old teal curtains, holding one aside for me to enter.
It was dark but that Cirque du Soleil sun might as well have been beaming. My awesome geek had taken me backstage, a shortcut to the ticket booth, easier than explaining where it was.
God bless the distracted and disinterested. For they shall inherit my total geek love.
It was all I could do to act cool and control the size of my eyes.
I wanted to STOP! Touch! Be here!
The moment he rounded a curve ahead of me, I snapped a photo and directly cursed the "snapping photo" sound that I usually want to amp up to ten. A crew member glanced up when he heard the shutter sound and I offered my best, "Yeah, what was that?" shrug as I scurried to catch up with my nerd-of-awesome.
We reentered the sunlit corridor and he waved me off, not noticing the stardust clearly smashed all over my face.
Splitting my mind in two, I proceeded to torture the ticket booth girl with complex seating questions (floor seats are useless for kids on a flat floor, center stage is unfavorable if it's too far away) and simultaneously plot my reentry to the backstage area, sans geek.
Clearly, I am expecting to be tackled by circus strongmen at any moment. My sole preemptive measure is to turn off the "shutter" sound on my phone. I test it on a sign that makes me love the MS Coast Coliseum and only slightly regret that I am probably breaking lots of their other rules.
Stealth is apparently a strong suit of mine. That or I overestimated the DEFCON level of Cirque du Soleil. Either way, I ghosted my way backstage again.
What proceeded can only be described as a ballet of epic spy moves. Phone on my hip, I stole shots of Alegría's backstage area through a series of "Darn, another rock in my sandal" and "Fire ants are on my ankles" bending maneuvers designed to buy me as many pauses as possible between Point Sneak-In and Point Sneak-Out.
Viewed on security camera in fast-motion, it must have looked like I was having a long-form epileptic seizure.
And barely suppressing an elated smile the entire time.
Needless to say, the result was poor spy work. Mostly very blurry photos and possibly a year or two shaved off my life.
Though I have to think the sheer magic of the stolen moment will offset the danger of the "stealing" nicely.
Ooh, and see that blurry white pile below the "Massage" sign? Those are ballet flats. I spent a good ten seconds staring at them, their faded pink and shredded toes, willing myself not to actually steal them.
I could explain a lot of things, sneaking through the teal curtains to the public corridor again. Explaining a pair of stinky circus shoes would have been glorious.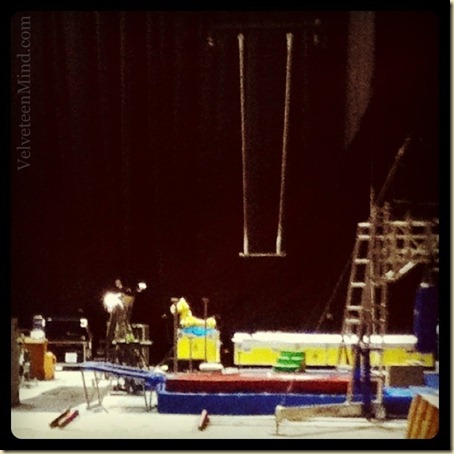 • • • • • • • • •
Alegría? Was glorious. My stolen glimpses behind the "artists only" side of the curtain did nothing to detract from the mystery so necessary to their world.
We sat on the front row for our first attendance that weekend, having seen the performance enough times in the past that seeing the forest for the trees was not a concern. We reveled in the details of their work. The way their chests heaved, the way they carefully made eye contact with individual audience members, the way they sweat and strove and rested while performing.
Sitting so close to them as they worked, you could simultaneously see both the artist and the creation, seamlessly presenting breathtaking wonder.

Subscribers click through for video.

The second set of tickets I purchased were for a matinee with the children, seats carefully chosen in the first set of risers to stage left. Our seats bordered a railing, on the other side were unopened risers, a closed walkway in between, leading to a heavy teal curtain through which you could see low light.
During Synchronized Trapeze, my favorite act performed to "Vai Vedrai" (see the act in the video above), I leaned down to grab something and caught a flash of moving white in the walkway. You would have thought I was trying not to scare away young deer as I slowly moved my gaze to (holding my breath) the Cirque du Soleil performers stealthily taking in the show themselves. Inches from me.
Full make-up and costume, save for their head pieces. If you know Cirque du Soleil performances, they end each by returning to the stage for a final bow with their hats removed, hair loose, revealing the human behind the character.
There they stood, deep in the shadows, quietly clapping and laughing and enjoying the performance of their peers just as much as the audience. I seemed to be the only one that noticed them, as I'm sure they would have been in trouble themselves had they been caught on the wrong side of those "PUBLIC AREA!" teal curtains.
If I could have gotten away with watching the entire show while seemingly scratching my ankles, you know I would have. Witnessing the artists delight in their own work was infinitely priceless. My children sat beside me, awestruck and deep in amazement; I inhaled fairy dust and breathed deep.
Push aside the teal curtains and let loose your glitter, your drama, and your fierce feathers. Throw your arms wide. Celebrate magic and let a little trouble in.
• • • • • • • • •
By the way, no part of this post was sponsored, which is beyond me because holy mother I would be a killer ambassador to both Cirque du Soleil AND the MS Gulf Coast tourism bureau. In the meantime, I'll just try to avoid being the ambassador for the Harrison County MS jail. Don't drop a dime on me, people.

Don't miss an update! Free delivery of new posts via email (recommended) or feed reader.

Follow me on Twitter! or