{Audioblog} Listen to or Download 'Gravel Paves the Road to the White House' read by the author
The sound of gravel crunching under slow-moving tires is the sound of the small town to me.  The sound of cicadas on a warm summer evening, while
you wave at your neighbors honking as they drive past your home.  That is small town life.
I grew up in a small town of 5,000 in Southern Illinois.  Our town was the metropolis of our county, or so it seemed to me.  We were surrounded by towns whose populations made them more like villages, whose residents came to our town to shop at the Wal-Mart or go out to eat at the fancy new smorgasbord.
Separating those towns from ours were two-lane roads bordered by cornfields, soybean fields, cows, and hay bales.  The only traffic lights were the blinking kind.  You often had to pass tractors on the road or hold your tongue as you followed behind the Amish in their wagons.  It was that kind of small town.
The phrase "small town values" is being thrown around a lot lately.  On one side of the aisle, you hear the declaration "We believe in small town values."  On the other side, you hear the question "But what are small town values?"
Defining "small town values" is as easy as defining what "love" is to a toddler.  You know it when you feel it, but it is difficult to put into words, particularly when you find yourself on the spot facing a raised eyebrow and a smug smirk awaiting your sure-to-be fumbling explanation.
(feed readers, click through for video above)
The question of small town values and whether or not they are relevant or important is intriguing, regardless of your political leanings.  The majority of our country, if not our world, is small towns.  Much of the populations of our cities migrated from small towns.  Small-town-America is the root of this country, so what does that mean to us?
There is no one definition of what "small town values" is, but to me it means a greater ability to see the people around you.  Really see them.
Have you ever spent so much time online for weeks at a time that you find your head utterly filled with noise?  You didn't notice it happening, but then you step outside one evening, discover it quiet, and realize that you had cocooned yourself within a wall of static? 
Picture yourself working on your computer, appliances running in the kitchen, laundry running in the next room, kids watching TV, husband listening to his iPod...  and suddenly the power goes out.  After much rummaging around for flashlights and grumbling about how you have so much to get done, you finally submit to the fact that you'll probably be in the dark for at least a few more hours, which no amount of huffing and puffing will change.
And then it happens.  You realize that you've just had an eye-to-eye conversation with your kids that lasted longer than the time it takes to say, "In a minute..." or "As soon as I finish..." or "Tell me about that while I'm..." 
Notice how they cut their eyes the way your grandmother used to when they say, "I have a good idea..." and then that idea is revealed to revolve around candy.  The way they touch their hair when they are thinking of what to say next or tap their fingers together while anticipating your answer on that candy question still on the table.
It's easy to miss those details when you aren't even looking at them.
There is nothing to distract you from them and you find yourself able to see them.  See them clearly.  Hear them without the background hum of your modern life keeping you consistently 20% distracted.
That feeling is what small town life is to me.  It is a simplification, to be sure, but when compared to life in a large city, I think it is accurate.  For me, at least.
Now take it a step further and imagine turning off the TV news and radio talk programs and Internet for two weeks.  No newspapers, no magazines, nothing other than your personal world filling your attention.  You still listen to music and watch movies, go out to dinner and take your kids to the park.  But you aren't necessarily aware of what is going on a world away.  You don't know about every tropical depression forming in the ocean and cease fire being negotiated over some sandy terrain.
I have done that.  I can tell you first-hand how amazing it is to watch your priorities crystallize.  To feel the stress drain away that you never knew was there, held in the base of your neck, stemming from problems that may or may not ever have anything to do with you.
You find yourself living your life, not a million other people's.
That firmly planted grounding of self and family and immediate community is small town values to me.   
I am not advocating ignorance.  I'm not even advocating small town life.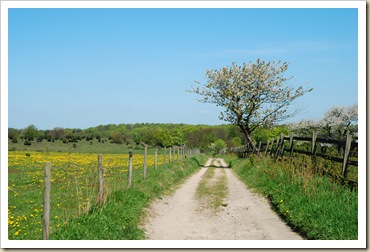 Rather, I am trying to put my finger on what small town values are by submerging myself in the feeling of a small town and reaching down to the core of me, asking "What do you see?  How do you feel?"
I feel compassion on a personal level.  I see community at its root.  I am digging my hands into a foundation that is rich and firm, but that must be maintained in order to remain strong and fertile. 
Without that strong foundation, we can not build our tall towers that allow us to see those that were previously beyond our horizon and beyond our reach.  Beyond our help.
Ask yourself, "What are small town values?"  Tell me why they are important.  Tell me how we can ever help globally if we can not first live a fully realized life locally.
Gravel paves the road to The White House.  I struggle to articulate why that is important to remember, but my gut tells me that it is.
...........................
New Here? Sign up for free delivery of new posts via RSS or email.